'A smorgasbord of rampant colour and untethered design as different as all the people you love'
BUY ANY FOUR CARDS AND UK P&P IS FREE!
Holy crap, we've sold over TWO MILLION cards across the UK, United States, Hong Kong and Australia. And we have oh so much more up our scruffy sleeves to share with you...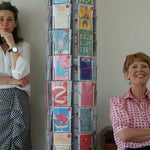 TWO DIRTY HOOLIGANS IN AN INKY PIT WE LIKE TO CALL A STUDIO

Find out who we think we are and what on earth we think we do.
BEST IN SHOW?

Our shiny new rosette cards are ready and waiting to be awarded to a star performer near you
You can find us in all these top places, plus hundreds of fabulous indie stores, bookshops, galleries and museums..