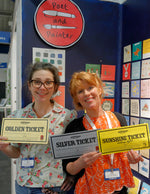 Happy Days! Investment from 3 x Retas 2018 Winners at PG LIve 2018
We are just landing after a wonderful show at PGLive last week. We were genuinely moved by the responses to our latest stuff and the kind words and support from our existing stockists and many new ones - thank you!
The icing on the cake was when we were chosen by three wonderful RETAS 2018 winning stores, Nor Gifts, Calliope Gifts and First Class Greetings  to invest their winning vouchers with Poet and Painter!