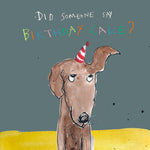 Progressive Greetings Live 2019 - Let them eat cake!
We had such a lovely time at PG Live that it may as well been two days of eating birthday cake at a party! The great and good of the greetings card world were out in force and we met lots of new customers and plenty of old friends too.
A simple card is such a fabulous way to  let someone know that they aren't far from your mind, be they for the good times or bad. A hug in the post will always be welcome from someone who needs one.