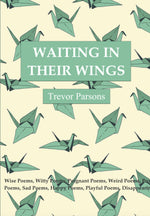 New Book of Poems for 2018!
Trevor has just finished a new collection of his poetry for adults. From a meditation
on a burnt-out hair-dryer to a sceptical look at selling soap, Waiting in their Wings
is a fascinating and hugely enjoyable book of informal, unstuffy poems.
Waiting in their Wings will be ready to fly off the shelves at the start of 2018!