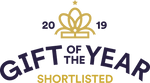 Poet and Painter are Finalists for Gift of The Year 2019!
We are proud as punch to have been shortlisted for the prestigious Gift of the Year 2019, for our Frankly range.
It's an absolute privilege to be selected to be amongst such Grands Fromages in the card publishing world.  Thank you to all of our stockists in the UK and overseas, it's a great end to a very exciting and busy year for us. Roll on 2019.